The Artwork Of Bill Suttles
At ninety-one, Bill Suttles paints every day in his studio atop Buzzard's Roost in the North Georga Mountains near Young Harris College. He retired there from Atlanta, Georgia, with his painter/potter wife, Pat Suttles, in 2000. This site showcases his most current work, work that has not even made it into the galleries that represent him yet.
This site is created and maintained for him by his son, Todd Suttles.
My father is, and my mother was, a lifetime professional artist. They began exhibiting in 1960 in Atlanta. My father has work in museums, international private collections, and hanging at the Georgia State Capital. My mother has work in the permanent collection at The High Museum of Art, in Atlanta.
Edit Project
Off The Easel Collection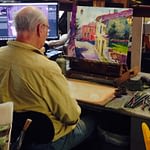 2020-2021
Bill Suttles has been painting daily, secluded in his studio, atop Buzzard's Roost in North Georgia -while social distancing. The result is a diverse, large body of new work. My father uses this time to explore new techniques, media, and concepts that he is calling his "Off The Easel Collection."
We are making these new works available here, unframed and unmatted, fresh from his easel – unexhibited in any of his galleries. Because of this, adjustments have been made accordingly to the price.
-Thank you for visiting my dad's website -todd suttles, webmaster
Edit Project
Figments Du Jour
Figments Du Jour Collection
This is Bill's most recent collection and is still in the early stages. The paintings in his current Figment Du Jour collection vary greatly. He pushes the envelope and explores mixed media. He uses acrylics, inks, drawing, collage, and more within the collection. Which of these he uses varies from painting to painting and his inspiration on a given day.
They are all original paintings on 9×12 fine art paper, signed, and are ready to mat and frame.
Edit Project
Oil Paintings
Original oil paintings by Bill Suttles on panel or canvas as indicated. Some are framed, some are artwork only; also indicated by artwork.
More artworks are available via his representing galleries:
The District Gallery, 5113 Kingston Pike, Knoxville, TN 37919 – 865.200.4452     click here
The River Gallery, 400 East Second Street, Chattanooga, TN 37403 – 423.682.1287  click here
Edit Project
______________________                  ______________________
Sampling of Sold Works & Archives
A pictorial record from 2000-2021.
1960-2000 not represented yet, but coming soon, all in a more polished presentation.
Edit Project
Smaller Works
Bill Suttles Smaller Works
Beginning in March 2020, as we all started to self-isolate to stop the spread of Covid-19, my dad decided that he wanted to work in a more impromptu, spontaneous style. Bolder, without reserve, and elemental.
The result of going in this new direction is producing two new collections which he is calling:
Studio Small Works
Studio Short Takes
Edit Project
Studio Small Works
My father explains his Studio Small Works as "a more contemplative reaction to a particular time and place." The artwork is a mixed media on textured paper with more artistic development measuring 8.5 x 10.5″. The paintings are sold in a 12 x16″ matt and are framed in a wide, plain white frame under glass.
Studio Short Takes
My father explains his Studio Short Takes as an "immediate emotional response to a visual experience. The artwork is a mixed media on textured paper with more linear work, measuring 8.5 x 10.5". The paintings are sold in a 12 x16″ matt and are framed in a wide, plain white frame under glass.
Paintings
Bill Suttles Original Paintings
Here is a collection of originals by my dad, Bill Suttles, spanning his lifetime, including early work, sold work, current ongoing gallery exhibits, and work available for purchase online.
Edit Project
Bill Suttles Style
Trained as an illustrator, my dad uniquely combines his illustrative eye with his use of pastel, oil, ink, and gouache, along with other mediums to create his unique style and use of color.
These paintings vary in size, medium, and subject matter. Bill Suttles' favorite subjects are rural Southern Appalachia and Europe, as are his figurative, the Southern, and Maine, coastal work.
Fine Art Prints
A few of my father, Bill Suttles' art is available as Archival Fine Art Prints. All printing uses archival inks on archival materials resulting in an artwork that will always be an accurate representation of the original.
Edit Project
We create the digital capture used for printing with the most advanced equipment; color is hand balanced to match the exact colors in the artwork at the time of capture by art reproduction experts. Those same professionals then make prints onto the archival material best suited to reproduce the original texture.